Century Systems Inc, 7 Shields Immune, 90 Capsules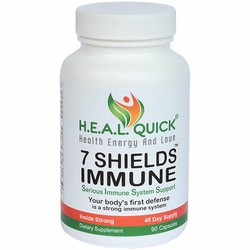 Product Description
H.E.A.L. QUICK 7 Shields Immune
Serious Immune System Support.
Inside Strong.
45 Day Supply.
Dietary Supplement.
Your body's FIRST defense is a strong immune system.
7 SHIELDS combines 7 powerful immune fighting ingredients into a proprietary immune boosting complex.

7 SHIELDS also gives many people increased energy and vitality; therefore, it is recommended that you take your two capsules in the morning.
Supplement Facts
Serving Size: 2 Capsules
Servings Per Container: 45
Amount Per Serving % Daily Value
Vitamin C 180 mg 300%
Vitamin B-12 (as Methylcobalamin) 120 mcg 5,000%
7 Shields Proprietary Immune Boosting Complex: 840 mg
Odorless Garlic, Turmeric, Ginger, Echinacea, and Cayenne Pepper (40,000 SHU)
* Daily Value not established

Other Ingredients: Silica and USP Kosher Gelatin Capsules.
Directions:
For normal daily maintenance and energy, take two capsules daily with breakfast or lunch. Children 60 to 90 lbs take one capsule.

When you feel your immune system may need a boost, take three capsules daily.

7 SHIELDS is often very energizing. Take it early in the day for sound sleep at night. Contains cayenne and best taken with food. Capsules can be opened and sprinkled over food as a great tasting seasoning.
Notice: Actual results may vary among users. You should always consult with your physician before starting this product or any health-related program. The product information may differ due to packaging update or re-formulations. You should read carefully all product packaging.
Disclaimer: The product descriptions and the statements on this page are from manufacturers and/or distributors and have not been evaluated by AmeriLifeVitamin.com or the FDA. These products are not intended to diagnose, treat, cure, or prevent any disease.