Ridgecrest Herbals, Blood Pressure Formula, Chinese Herbal Blend, 60 Vegan Capsules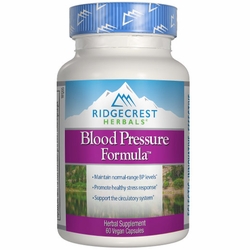 Product Description
Ridgecrest Herbals Blood Pressure Formula
Herbal Supplement.
Vegetarian / Vegan.
Chinese Herbal Formula.
Supplement Facts
Serving Size: 2 Capsules
Amount Per Serving % Daily Value
Blood Pressure Herbal Blend (482 mg/cap) 954 mg *
Gastrodia root, Eucommia bark, Achyranthes root, Chinese Skullcap root, Gardenia fruit, Fo-ti stem, Loranthus stem, Uncaria Rhynchophylla stem, Chinese Motherwort herb, Siegesbeckia Orientalis herb, Asian Water Plantain root, Poria fungus.
* Daily Value not established

Other Ingredients: Vegetable capsule, microcrystalline cellulose, silica.
Capsule size "0". Contains no animal products, nuts, corn, dairy, gluten, GMO, soy, wheat, or yeast.
Directions:
Take 2 capsules daily. Results are usually felt within minutes or hours, and increase with continued use. Dose may be adjusted for individual needs and during high stress.
California Residents Prop 65 WARNING: This product contains a substance known to the State of California to cause birth defects or other reproductive harm.
Notice: Actual results may vary among users. You should always consult with your physician before starting this product or any health-related program. The product information may differ due to packaging update or re-formulations. You should read carefully all product packaging.
Disclaimer: The product descriptions and the statements on this page are from manufacturers and/or distributors and have not been evaluated by AmeriLifeVitamin.com or the FDA. These products are not intended to diagnose, treat, cure, or prevent any disease.