Gaia Herbs, Cat's Claw Bark Liquid, 4 oz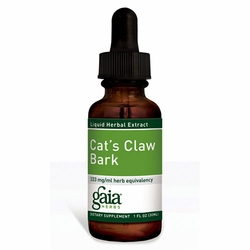 Product Description
Gaia Herbs Cat's Claw Bark
Uncaria tomentosa.
Supports Healthy Functions of the Immune System.
Promotes a Healthy Inflammatory Response.
Supplement Facts
Serving Size: 30 Drops
%DV
Extract
Cat's Claw Vine Inner Bark (Uncaria tomentosa), 50-60% Pure Grain Alcohol USP, and Spring Water. **
Minimum Dry Herb Strength Ratio: 1:3
**Daily Value not established.
Suggested Use:
Take 30-40 drops of extract in a small amount of warm water 3-4 times daily between meals.
Notice: Actual results may vary among users. You should always consult with your physician before starting this product or any health-related program. The product information may differ due to packaging update or re-formulations. You should read carefully all product packaging.
Disclaimer: The product descriptions and the statements on this page are from manufacturers and/or distributors and have not been evaluated by AmeriLifeVitamin.com or the FDA. These products are not intended to diagnose, treat, cure, or prevent any disease.