PhytoLogica, Full Spectrum Hemp Balm 250 mg, 1 oz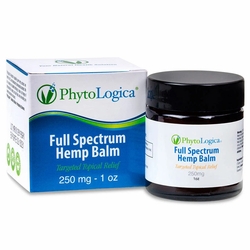 Product Description
PhytoLogica Full Spectrum Hemp Balm 250 mg
Targeted Topical Relief.
High Potency Topical Relief.
Experience the soothing power of PhytoLogica's 250mg Full Spectrum Hemp Balm, an all natural hemp oil topical formulated to support your skin's well-being as well as to provide topical relief for sores and aches. Ideal for those seeking a high-quality hemp balm, this 250mg variant delivers full spectrum hemp extract benefits in a nourishing and easy-to-apply formula. Simply massage the balm onto desired areas to experience the benefits of full spectrum hemp oil.
Ingredients:
Medium Chain Triglycerides (coconut oil), Beeswax, Phytocannabinoid Hemp Extract, Lavender Oil, Eucalyptus Oil.
Notice: Actual results may vary among users. You should always consult with your physician before starting this product or any health-related program. The product information may differ due to packaging update or re-formulations. You should read carefully all product packaging.
Disclaimer: The product descriptions and the statements on this page are from manufacturers and/or distributors and have not been evaluated by AmeriLifeVitamin.com or the FDA. These products are not intended to diagnose, treat, cure, or prevent any disease.