NOW Foods, BCAA Big 6 - Natural Watermelon Flavor Powder, 600 g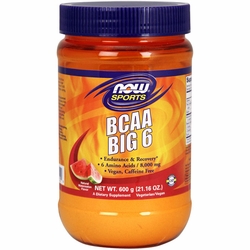 Product Description
NOW Foods BCAA Big 6
Endurance & Recovery.
6 Amino Acids / 8,000 mg.
Natural Watermelon Flavor.
Vegan/Vegetarian.
Dairy Free, Made w/o Gluten, Caffeine Free.
BCAA Big 6 is an advanced caffeine-free sports supplement formulated to support exercise endurance and recovery from intense workouts. BCAA Big 6 features branched-chained amino acids (BCAAs) to support muscle retention and recovery, and betaine to help maintain fluid balance during exercise. BCAA Big 6 also has taurine, which can further support endurance. BCAA Big 6 includes L-citrulline and L-glutamine to complement this formula.
Supplement Facts
Serving Size: 1 Level Scoop (approx. 18 g)
Servings Per Container: about 33
Amount per Serving % Daily Value
Calories 25
Total Carbohydrate 6 g 2%
Xylitol 2 g
Sodium 230 mg 10%
Branched-Chain Amino Acids
(L-Leucine, L-Isoleucine, L-Valine) 5,000 mg
Betaine Anhydrous [TMG (Trimethylglycine)] 1,500 mg
L-Citrulline 1,000 mg
L-Glutamine 1,000 mg
Taurine 1,000 mg
Other Ingredients: Natural Flavors, Xylitol, Sodium Bicarbonate Powder, Citric Acid, Malic Acid, Silica, Beet Powder, Guar Gum, Stevia Leaf Extract (Rebaudioside A) and Xanthan Gum.
Not manufactured with wheat, gluten, soy, milk, egg, fish, shellfish or tree nut ingredients. Produced in a GMP facility that processes other ingredients containing these allergens.
Suggested Usage:
Add 1 scoop of BCAA Big 6 to a glass or shaker cup filled with 14-16 oz. of water or your favorite beverage. Stir or shake vigorously for about 15-20 seconds to ensure a good mix. Can be taken before, during, or after exercise.
Store in a cool, dry, dark place after opening.
Caution: For adults only. Consult physician if pregnant/nursing, taking medication (including antihypertensive, nitrates, vasodilating drugs and/or diuretic medication), or have a medical condition (including heart and/or conditions affecting blood pressure). Keep out of reach of children. Contains Xylitol, do not feed to pets.
WARNING: Ingestion of Xylitol, in any product is a medical emergency if consumed by pets, especially dogs, ferrets and rabbits. If you suspect your pet ingested xylitol by either observing this happen or finding evidence of a chewed container or product, and the animal is acting normal, you should attempt to give animal(s) a small meal and at the same time, immediately seek medical attention. If you have evidence that they ingested a product that contains xylitol and the animal(s) is not acting normal you should seek medical attention immediately without giving the animal any food.
NOW Foods - Manufacturer Information:
Notice: Actual results may vary among users. You should always consult with your physician before starting this product or any health-related program. The product information may differ due to packaging update or re-formulations. You should read carefully all product packaging.
Disclaimer: The product descriptions and the statements on this page are from manufacturers and/or distributors and have not been evaluated by AmeriLifeVitamin.com or the FDA. These products are not intended to diagnose, treat, cure, or prevent any disease.