Olympian Labs, BCAA Keto (3:1), 90 Tablets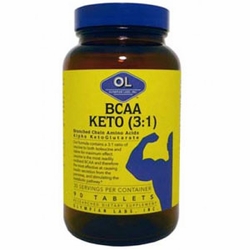 Product Description
Olympian Labs BCAA Keto
Dietary Supplement.
Branched Chained Amino Acids.
Alpha KetoGlutarate.
Amino acid blend maximizes muscle performance, recovery and strength. This unique formula supports optimum muscle health, performance and results from exercise by combining three Branched-chain amino acids (BCAA) and Alpha Ketoglutarate (AKG), a compound important in the synthesis of the amino acid Glutamine.
OL guarantees that all Olympian Labs Products are of the highest quality ingredients and lab assayed to ensure that what we say on the label is actually in the product.
Supplement Facts
Serving Size: Three (3) Tablets
Serving Per Container: 30
Amount Per Serving % Daily Value
BCAA Keto (3:1) 3500 mg
L-Leucine-Alpha-Ketoglutarate 2100 mg
L-Isoleucine-Alpha-Ketoglutarate 700 mg
L-Valine-Alpha-Ketoglutarate 700 mg
Other Ingredients: Solutab, microcrystalline cellulose (plant fiber), stearic acid, silicon dioxide, starch.

Free from most allergens such as corn, yeast, barley, gluten, wheat, soy, lactose, all milk products, citrus, fish, egg products, as well as added flavorings, sugars, sweeteners, salt, preservatives, salicylates, and artificial colors and coatings.
Suggested Use:
As a dietary Supplement, take one (1) to three (3) tablets before and after working out, or as directed by a healthcare professional.
Warnings: Consult your healthcare professional before taking this product if you are taking any prescriptive medications, pregnant or nursing a baby.
Notice: Actual results may vary among users. You should always consult with your physician before starting this product or any health-related program. The product information may differ due to packaging update or re-formulations. You should read carefully all product packaging.
Disclaimer: The product descriptions and the statements on this page are from manufacturers and/or distributors and have not been evaluated by AmeriLifeVitamin.com or the FDA. These products are not intended to diagnose, treat, cure, or prevent any disease.