Lidtke, Berry-C Sweet Powder, Super Vitamin C from Fruits & Berries, 3.5 oz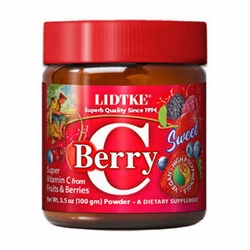 Product Description
Lidtke Berry-C Sweet Powder
Super Vitamin C from Fruits & Berries.
High Polyphenols.
Vegan.
Dietary Supplement.
Thank you for choosing Berry C by Lidtke. We sincerely wish the best of health for you and your family.

Berry C is a phytonutrient-rich blend of superstar fruits and berries, bursting with flavor and abundant in Polyphenols, Bioflavonoids, Resveratrol, Vitamin C and other nutrients important to the immune system, skin and eyes.
Supplement Facts
Serving Size: 1 Scoop (Approx. 2200 mg)
Amount Per Serving % Daily Value *
Vitamin C 225 mg 375%
(From all natural fruit & berry blend, containing acerola, luo han guo fruit, cranberry, blueberry, and strawberry...exceptionally high in polyphenols, bioflavonoids, resveratrol and vitamin C)
* Percent Daily Values are based on a 2,000 calorie diet.
** Daily Value not established
No artificial colors, flavors or sweeteners.
Directions:
(Adults): Take one (1) scoop daily or as directed by your doctor.
Notice: Actual results may vary among users. You should always consult with your physician before starting this product or any health-related program. The product information may differ due to packaging update or re-formulations. You should read carefully all product packaging.
Disclaimer: The product descriptions and the statements on this page are from manufacturers and/or distributors and have not been evaluated by AmeriLifeVitamin.com or the FDA. These products are not intended to diagnose, treat, cure, or prevent any disease.