Kroeger Herb, Bilberry Complete Concentrate, 90 Vegetarian Capsules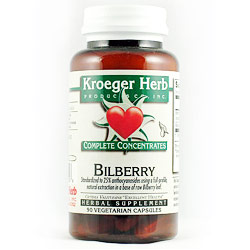 Product Description
Kroeger Herb Bilberry
Complete Concentrate.
Standardized to 25% anthocyanosides using a full-profile, natural extraction in a base of raw Bilberry leaf.
Herbal Supplement.
Used for eyesight, night vision, diabetic retinopathy, macular degeneration and varicose veins. A good antioxidant.

Only Complete Concentrates® use standardized, full-profile herbal extracts of an all-natural water or water/alcohol extraction process without harmful solvents, such as acetone, hexane or denatured alcohol, and without excipients, such as maltodextrin. Complete Concentrates are made with an active base of pure herb without any fillers, binders or flowing agents.
Supplement Facts
Serving Size: 1 Capsule
Servings per Container: 90
Amount Per Serving % Daily Value
Bilberry fruit (Vaccinium myrtillus), dried extract (standardized to 25% anthocyanosides) 50 mg *
Bilberry leaf (Vaccinium myrtillus), an active base 300 mg *
* Daily value not established.

Other Ingredients: Vegetarian source capsules and water.

Directions:
Take 1 capsule 3 times daily.
Notice: Actual results may vary among users. You should always consult with your physician before starting this product or any health-related program. The product information may differ due to packaging update or re-formulations. You should read carefully all product packaging.
Disclaimer: The product descriptions and the statements on this page are from manufacturers and/or distributors and have not been evaluated by AmeriLifeVitamin.com or the FDA. These products are not intended to diagnose, treat, cure, or prevent any disease.