Doctor's Best, Biotin 10,000 mcg, 120 Veggie Caps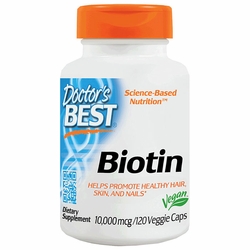 Product Description
Doctor's Best Biotin 10000 mcg
Dietary Supplement.
Promotes Healthy Hair, Skin, and Nails.
Vegan - Non-GMO - Gluten Free.
Best Biotin provides a substantial dose of the B-complex vitamin biotin, indispensable for the unique function of "biotinylation" that facilitates both energy and protein metabolism and healthy DNA activity. Clinical observations of biotin deficiency shows its importance for the upkeep of healthy skin and hair, as well as for the immune and central nervous systems. Preliminary evidence also suggests that biotin can promote healthy nail renewal.
Supplement Facts
Serving Size: 1 Capsule
Servings Per Container: 120 Servings
Amount Per Serving % Daily Value
Biotin 10,000 mcg 3,334%
Other Ingredients: Dicalcium phosphate, modified cellulose (vegetarian capsule), magnesium stearate (vegetable source), silicon dioxide.
Suggested Use:
Adult use: Take 1 Biotin capsule daily, or as recommended by a nutritionally-informed physician.
Notice: Actual results may vary among users. You should always consult with your physician before starting this product or any health-related program. The product information may differ due to packaging update or re-formulations. You should read carefully all product packaging.
Disclaimer: The product descriptions and the statements on this page are from manufacturers and/or distributors and have not been evaluated by AmeriLifeVitamin.com or the FDA. These products are not intended to diagnose, treat, cure, or prevent any disease.