Weleda, Birch Cellulite Oil, 3.4 oz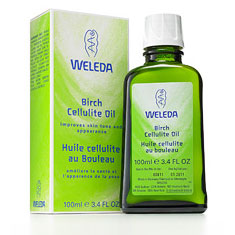 Product Description
Weleda Birch Cellulite Oil
Beautifying and refreshing skin care.
Europe's #1 Natural Body Care Seller!
Visibly improves the skin's texture and smoothness after just one month of regular use. Young, organic Birch Leaves, organic Rosemary and Ruskus supports the skin's tone and overall health. Revitalizing Apricot Kernel Oil, moisturizing organic Jojoba Oil and vitamin-rich Wheatgerm Oil help to enliven the skin's appearance.
Birch Cellulite Oil Ingredients:
Prunus Armeniaca (Apricot) Kernel Oil, Simmondsia Chinensis (Jojoba) Seed Oil, Triticum Vulgare (Wheat) Germ Oil, Fragrance (Parfum)*, Betula Alba Leaf Extract, Ruscus Aculeatus Root Extract, Rosmarinus Officinalis (Rosemary) Leaf Extract, Limonene*, Linalool*, Geraniol*, Citral*. * from natural essential oils.
Please note that this product information may differ slightly from a product that you have purchased, as a result of our ongoing efforts to further improve our formulations and packaging to meet your needs.
Notice: Actual results may vary among users. You should always consult with your physician before starting this product or any health-related program. The product information may differ due to packaging update or re-formulations. You should read carefully all product packaging.
Disclaimer: The product descriptions and the statements on this page are from manufacturers and/or distributors and have not been evaluated by AmeriLifeVitamin.com or the FDA. These products are not intended to diagnose, treat, cure, or prevent any disease.