Amazing Herbs, Black Seed Gold Immune Support, 60 Capsules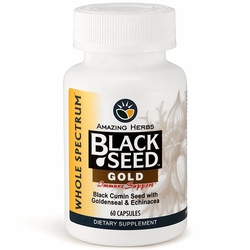 Product Description
Amazing Herbs Black Seed Gold
Whole Spectrum.
Immune Support.
Black Cumin Seed with Goldenseal & Echinacea.
Gluten Free. Non-GMO.
Dietary Supplement.
Supplement Facts
Serving Size: 1 Capsule
Ingredients Per Capsule Amount % DV
Proprietary Blend, Whole Spectrum Black Cumin powder, Goldenseal Root Extract, Echinacea Purpurea Root and Herb Powder 465 mg *
* (DV) Daily Value Not Established

Other Ingredients: Silicon Dioxide, Di-Calcium Phosphate, Gelatin capsule (Bovine, USP, Halal).

Suggested Use:
As a dietary supplement for adults, take 1-2 capsules twice daily, as needed.

Warnings: Not recommended for use during pregnancy.
Notice: Actual results may vary among users. You should always consult with your physician before starting this product or any health-related program. The product information may differ due to packaging update or re-formulations. You should read carefully all product packaging.
Disclaimer: The product descriptions and the statements on this page are from manufacturers and/or distributors and have not been evaluated by AmeriLifeVitamin.com or the FDA. These products are not intended to diagnose, treat, cure, or prevent any disease.