Dr. Price's Vitamins, Cal-Mag Vites Powder, Strawberry Lemon Flavor, 30 Packs

Product Description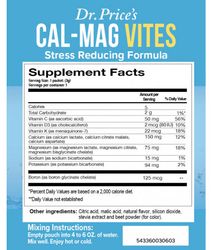 Dr. Price's Cal-Mag Vites Powder
Stress Reducing Formula.
Non-GMO & Gluten Free.
Includes Vitamin D3 & Vitamin K.
No Sugar.
100% Naturally Sweetened.
Bone Enhancing Plus Stress Reducing Vitamins.
This is a unique blend of three different calcium sources with three different magnesium sources. The body requires various sources of these minerals each day for normal function. Dr. Price formulated this proprietary blend to take care of all your calcium and magnesium needs. Like all of Dr. Price's vitamins, the Cal-Mag Vites are a highly absorbable water-soluble powder.
Mixing Instructions:
Empty pouch into 4 to 6 oz of water. Mix well. Enjoy hot or cold.
Notice: Actual results may vary among users. You should always consult with your physician before starting this product or any health-related program. The product information may differ due to packaging update or re-formulations. You should read carefully all product packaging.
Disclaimer: The product descriptions and the statements on this page are from manufacturers and/or distributors and have not been evaluated by AmeriLifeVitamin.com or the FDA. These products are not intended to diagnose, treat, cure, or prevent any disease.