Planetary Herbals, Cat's Claw Complex Complete, 90 Tablets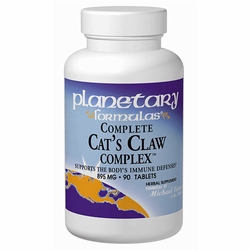 Product Description
Complete Cat's Claw Complex
Herbal Formula
Supports the Body's Immune Defenses
Planetary Formulas Complete Cat's Claw Complex features the benefits of the exceptional South American botanical cat's claw (Uncaria tomentosa). The Chinese tonics astragalus and reishi, and echinacea, one of North America's most relied-upon immune enhancers, are added, for a comprehensive approach to supporting immune defenses.

Supplement Facts
for 895 mg
Serving Size: 2 tablets
Amount %DV
Calories 5
Sodium 10 mg <2%
Total Carbohydrates 1 g <2%
Dietary Fiber 1 g 4%
Cat's Claw Inner Bark 700 mg
Proprietary Blend: 1.09 g
Andrographis Aerial Parts, Isatis Root, Oldenlandia Leaf, Astragalus Root, Reishi Mycelia Biomass, Reishi Mushroom Extract, Echinacea Root Extract, Jujube Fruit, and Cardamom Fruit.
Other Ingredients: acacia gum, stearic acid, colloidal silicon dioxide, modified cellulose gum, and magnesium stearate.
Warning: Not for use during pregnancy or breastfeeding.
Suggested Use:
Two Cat's Claw Complex tablets three times daily, between meals, or as recommended by your health care professional.
Notice: Actual results may vary among users. You should always consult with your physician before starting this product or any health-related program. The product information may differ due to packaging update or re-formulations. You should read carefully all product packaging.
Disclaimer: The product descriptions and the statements on this page are from manufacturers and/or distributors and have not been evaluated by AmeriLifeVitamin.com or the FDA. These products are not intended to diagnose, treat, cure, or prevent any disease.