Superior Source, Chromium 500 mcg (Chromium Picolinate), 60 Instant Dissolve Tablets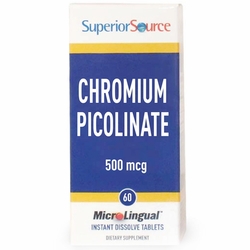 Product Description
Superior Source Chromium 500 mcg (Chromium Picolinate)
MicroLingual Instant Dissolve Tablets.
Dietary Supplement.
Chromium is required in trace amounts for the maintenance of healthy sugar metabolism. Superior Source provides chromium in our fast-absorbing Instant Dissolve MicroLingual Tablets for optimal nutrient delivery.
Supplement Fact
Serving Size: 1 MicroLingual Tablet
Amount Per Container: 60
Amount Per Serving % Daily Value
Chromium (as Chromium Picolinate) 500 mcg 417%
* Daily Value Not Established

Other Ingredients: Lactose (Milk) and Gum Arabic.
Directions:
As a dietary supplement, dissolve one MicroLingual tablet under the tongue daily. May also be swallowed as you would a regular tablet.
Notice: Actual results may vary among users. You should always consult with your physician before starting this product or any health-related program. The product information may differ due to packaging update or re-formulations. You should read carefully all product packaging.
Disclaimer: The product descriptions and the statements on this page are from manufacturers and/or distributors and have not been evaluated by AmeriLifeVitamin.com or the FDA. These products are not intended to diagnose, treat, cure, or prevent any disease.