Dr. Ginger's, Coconut Oil, Xylitol + White Charcoal Floss, 32 Yards (30 Meters)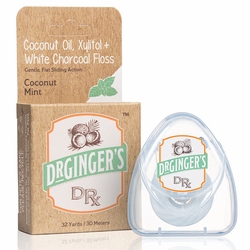 Product Description
Dr. Ginger's Coconut Oil Xylitol White Charcoal Floss
Gentle, Flat Sliding Action.
Coconut Mint Flavor.
Like your other Coconut favorites, it combines the time-proven benefits of coconut oil pulling with the fresh coconut mint flavor you love to easily reach those in-between spaces for a more complete clean.
A flat, smooth floss infused with tooth-friendly xylitol to help combat oral bacteria, along with the powerful deep-cleaning and detoxifying action of white charcoal.
Notice: Actual results may vary among users. You should always consult with your physician before starting this product or any health-related program. The product information may differ due to packaging update or re-formulations. You should read carefully all product packaging.
Disclaimer: The product descriptions and the statements on this page are from manufacturers and/or distributors and have not been evaluated by AmeriLifeVitamin.com or the FDA. These products are not intended to diagnose, treat, cure, or prevent any disease.