Avalon Organic Botanicals, CoQ10 Wrinkle Defense Night Cream, 1.75 oz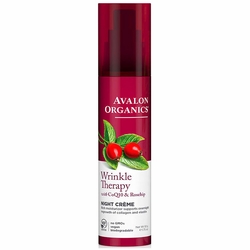 Product Description
CoQ10 Wrinkle Defense Night Creme
CoQ10 Skin Care
For All Skin Types.
Nightly enriched moisturization of Shea and Mango butters plus organic Jojoba and Sunflower oils formulated with enhanced levels of CoQ10 plus the antioxidant protection of organic White Tea and Vitamin E for a radiant, renewed complexion.
Signature ingredient: The CoQ10 enzyme is an essential antioxidant that is the energy source for new cells and smooth, firm skin. It is found in every living cell of your body and is an important factor in maintaining youthful, healthy skin.
Features and benefits: This cellular renewing wrinkle defense night creme, with the light, refreshing aroma of organic Sweet Orange essential oil, provides intensive hydration and anti-aging repair while you sleep.
Directions for use: Smooth creme over face and neck each night with special attention to wrinkle prone areas.
*If needed, firmly tap bottom of bottle to restart pump mechanism.
CoQ10 Defends Against Signs of Aging
Coenzyme CoQ10 is a naturally occurring enzyme found in every living cell of the body. It is essential to good health, and plays a particularly important role in vibrant, youthful-looking skin. As we age, our CoQ10 levels diminish, abetting the aging process of the skin. By bolstering levels of this important enzyme within our skin, topical applications of CoQ10 have been shown to reduce the signs of aging.
Avalon Organics CoQ10 Skin Care delivers optimal cellular renewal, diminishing the signs of prematurely aging skin. These concentrated formulations replenish natural Coenzyme Q10 to improve firmness and elasticity for smoother, younger looking skin.
CoQ10 Skin Care is formulated with Consciousness in Cosmetics using the cleanest, safest, purest ingredients, without pore-clogging mineral oil, petrolatum or propylene glycol. These products exceed EU Directive standards for safe cosmetics and are also free of parabens, artificial colors and synthetic fragrances, so you can be sure that no harmful ingredients will be absorbed into the body through your skin.
Notice: Actual results may vary among users. You should always consult with your physician before starting this product or any health-related program. The product information may differ due to packaging update or re-formulations. You should read carefully all product packaging.
Disclaimer: The product descriptions and the statements on this page are from manufacturers and/or distributors and have not been evaluated by AmeriLifeVitamin.com or the FDA. These products are not intended to diagnose, treat, cure, or prevent any disease.