Irwin Naturals, Curcumin Pro-Active, Turmeric + BioPerine, 90 Liquid Soft-Gels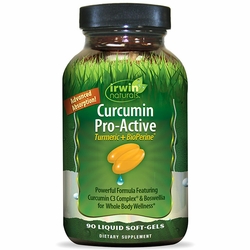 Product Description
Irwin Naturals Curcumin Pro-Active
Turmeric + BioPerine.
Advanced Absorption.
Powerful Formula Featuring Curcumin C3 Complex & Boswellia for Whole Body Wellness.
Easy-to-Swallow Liquid Soft Gel Delivery Enhanced with Bioperine.
Dietary Supplement.
Curcumin Pro-Active merges traditional herbalism with modern science to create a powerful formulation designed to support a healthy inflammatory response and to promote whole-body wellness.
(State of California Prop 65) This product contains a chemical known to the State of California to cause birth defects or other reproductive harm.
Notice: Actual results may vary among users. You should always consult with your physician before starting this product or any health-related program. The product information may differ due to packaging update or re-formulations. You should read carefully all product packaging.
Disclaimer: The product descriptions and the statements on this page are from manufacturers and/or distributors and have not been evaluated by AmeriLifeVitamin.com or the FDA. These products are not intended to diagnose, treat, cure, or prevent any disease.