Enzymedica, Digest Spectrum, Value Size, 120 Capsules

Product Description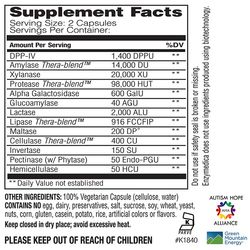 Enzymedica Digest Spectrum
Multiple Food Intolerance Formula.
Enzymes for all major food intolerances.
Breaks down gluten, phenol, lactose & casein.
Speeds up digestion.
Boosts energy.
Reduces occasional gas, bloating & indigestion.
Vegan & Kosher.
Dietary Supplement.
Suggested Use:
Take 1-2 capsules with each meal. More may be taken as needed.
Notice: Actual results may vary among users. You should always consult with your physician before starting this product or any health-related program. The product information may differ due to packaging update or re-formulations. You should read carefully all product packaging.
Disclaimer: The product descriptions and the statements on this page are from manufacturers and/or distributors and have not been evaluated by AmeriLifeVitamin.com or the FDA. These products are not intended to diagnose, treat, cure, or prevent any disease.