Primal Life Organics, Premium Dirty Mouth Powdered Mineral Toothpaste / Toothpowder, Polished Peppermint, 1 oz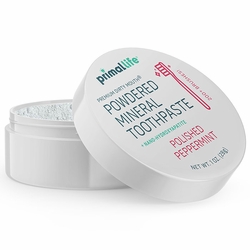 Product Description
Primal Life Powdered Mineral Toothpaste, Peppermint
Premium Dirty Mouth.
200+ Brushes.
Say goodbye to cavities, sensitive teeth, and bleeding gums!

The Primal Life Organics Dirty Mouth Toothpowder is a bestseller for a reason! It's formulated with cleansing, mineral-rich bentonite, kaolin, french green clays, and hydroxyapatite to clean, whiten, and remineralize your teeth, so they are stronger, leaving you with an alkaline mouth that is resistant to cavities!

Hydroxyapatite is a mineral that occurs naturally in teeth and bones and is an important part of remineralizing your teeth, protecting your tooth's outer layer.

Make your entire mouth happy, with clean, white teeth, fresh breath, and no chemicals - ever!

What we've left out: synthetic additives, preservatives, foaming agents, colors, artificial flavors, carrageenan, triclosan, and SLS.

Taste the difference a naturally fresh, alkalinized mouth can make! Your taste buds will thank you!

Dirty Mouth Toothpowder will leave you with stronger, whiter, and cleaner teeth and a mouth that feels fresh and alive!
Your Experience:
Fresh Tasting Breath
Cleaner and stronger teeth
Smooth, Gliding Sensation
"Just Left the Dentist" Feel
"Rock Hard" Bite
Happy Dentist visits
Our formula is made with natural ingredients to help fight bad breath and gently whiten teeth!

KID LOVED. MOM APPROVED.
Ingredients:
Bentonite, Kaolinite, Sodium Bicarbonate (Aluminum-Free Baking Soda), Nano-Hydroxyapatite, Montmorillonite, Mentha Piperita (Peppermint) Oil*.

Gluten-free, glycerin-free, and vegan.
Directions:
Wet your toothbrush. Shake off excess water. Dip the tip (1/2-2/3 of the brush) in the toothpowder. Brush for 2 minutes. Spit, rinse and SMILE!

**Follow with Dirty Mouth Gum Drops to help clean gum tissue.
Notice: Actual results may vary among users. You should always consult with your physician before starting this product or any health-related program. The product information may differ due to packaging update or re-formulations. You should read carefully all product packaging.
Disclaimer: The product descriptions and the statements on this page are from manufacturers and/or distributors and have not been evaluated by AmeriLifeVitamin.com or the FDA. These products are not intended to diagnose, treat, cure, or prevent any disease.