Garden of Life, Dr. Formulated CBD+ Relax, 30 Softgels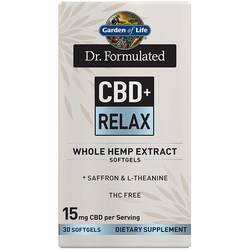 Product Description
Garden of Life Dr. Formulated CBD+ Relax
Dietary Supplement.
Mood, Stress, Worry.
Whole Hemp Extract Softgels.
15 mg CBD Per Serving.
+ Saffron & L-Theanine.
+ Entourage Effect Blend.
THC Free, Vegan & Gluten Free.
Small, Easy to Swallow Softgels.
Garden of Life is very proud to offer the first Non-GMO Certified softgels for CBD products. Dr. Perlmutter formulated this unique product with 15mg of Cannabidiol (CBD) from Whole Hemp Extract plus Organic Saffron & L-Theanine, two powerful, clinically researched ingredients that may support mood uplift, promote deep relaxation and a sense of calm by increasing the levels of serotonin and dopamine in the brain.
Suggested Use:
Adults take 1 softgel daily.
Notice: Actual results may vary among users. You should always consult with your physician before starting this product or any health-related program. The product information may differ due to packaging update or re-formulations. You should read carefully all product packaging.
Disclaimer: The product descriptions and the statements on this page are from manufacturers and/or distributors and have not been evaluated by AmeriLifeVitamin.com or the FDA. These products are not intended to diagnose, treat, cure, or prevent any disease.