AST Enzymes, Excellacor (Formerly Exclzyme), Systemic Enzyme, 450 Vegetarian Capsules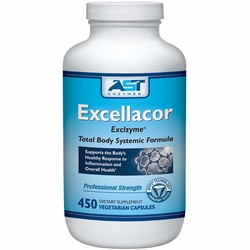 Product Description
AST Enzymes Excellacor
Formerly Known as Exclzyme.
Total Body Systemic Enzyme Formula.
Professional Strength.
Supports the Body's Healthy Response to Inflammation and Overall Health.
Vegetarian.
Made in USA.
Dietary Supplement.
Supplement Facts
Serving Size: 1 Capsule
Amount Per Serving % Daily Value
Exclzyme Blend 500 mg **
Protease, Peptizyme SP EN (enteric-coated Serrapeptase), Papain, Bromelain, Amylase, Lipase, Rutin and Amla
**Daily Value (DV) not established

Other Ingredients: Cellulose (vegetarian capsule).

Free Of: Wheat, egg, milk, soy, treenuts, peanuts, fish, shellfish.
Directions:
Take on an empty stomach (30-60 minutes before or 2 hours after meals).

Day 1-5: Take 1 capsule, 3 times a day.
Day 6-11: Take 2 capsule, 3 times a day.
Day 12+: Therapeutic Dose 3(+) capsules, 3 times a day.

Increase dose slowly until you reach a therapeutic dose.

Maintenance Dose: This is the minimum dose needed to continue to maintain the effects of managing your symptoms. This dosage varies upon individual and should be monitored closely. It is on average, 1-2 capsules fewer than your therapeutic dose.
Notice: Actual results may vary among users. You should always consult with your physician before starting this product or any health-related program. The product information may differ due to packaging update or re-formulations. You should read carefully all product packaging.
Disclaimer: The product descriptions and the statements on this page are from manufacturers and/or distributors and have not been evaluated by AmeriLifeVitamin.com or the FDA. These products are not intended to diagnose, treat, cure, or prevent any disease.