Pure Essence Labs, Ionic-Fizz Super D-K Calcium Plus Powder - Mixed Berry, 420 g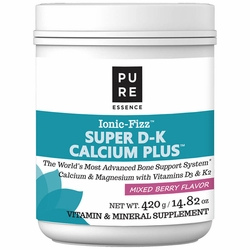 Product Description
Pure Essence Ionic-Fizz Super D-K Calcium Plus Powder - Mixed Berry
Advanced Bone Support System.
Calcium & Magnesium with Vitamins D3 & K2.
Vitamin & Mineral Supplement.
Adequate calcium and vitamin D3 throughout life, as part of a balanced diet and healthy lifestyle, may reduce the risk of osteoporosis. However, calcium supplements should always be balanced with magnesium. Ionic-Fizz Super D-K Calcium Plus provides calcium and magnesium in their purest, ionic form, in a perfect, 5:6 ratio, and with a host of other nutrients - like Vitamin K2 in its Menaquinone-7 form and 1000 IU's of Vitamin D3 - that help insure its absorption and utilization. These things make Ionic-Fizz Super D-K Calcium Plus the most supportive calcium supplement available anywhere.
Supplement Facts
Serving Size: 1 Scoop (7 g)
Amount Per Serving % DV
Vitamin A (as beta carotene) (150 mcg) 250 IU 17%
Vitamin C (as ascorbic acid) 250 mg 278%
Vitamin D3 (as VitaShine vegan cholecalciferol) (25 mcg) 1000 IU 125%
Vitamin K2 (as menaquinone-7) (VitaMK-7) 45 mcg 38%
Vitamin B6 (as pyridoxine HCl) 1 mg 59%
Folate (as Quatrefolic (6S)-5-Methyltetrahydrofolic acid, glucosamine salt) 50 mcg 13%
Vitamin B12 (as methylcobalamin) 30 mcg 1250%
Calcium (from Calcium lactate) 250 mg 20%
Magnesium (from Magnesium carbonate) 300 mg 71%
Zinc (as Zinc lactate) 2 mg 18%
Copper (from Copper gluconate) 0.25 mg 28%
Manganese (from Manganese gluconate) 1 mg 43%
Potassium (from Potassium bicarbonate) 100 mg 2%
Bamboo extract (stem and leaf) 60 mg *
Beet root powder 10 mg *
Ionic Sea Minerals 10 mg *
Grape skin extract 8 mg *
Boron (from Boron citrate) 500 mcg *
*Daily Value (DV) not established.

Other Ingredients: citric acid, fructooligosaccharides, natural grape (flavor), stevia leaf extract, natural strawberry (flavor), lo han extract (fruit), natural raspberry fruit powder (flavor), natural berry acai (flavor), natural mixed berry (flavor), natural grape (flavor).
Directions:
One scoop in 6-8 ounces of water.
Notice: Actual results may vary among users. You should always consult with your physician before starting this product or any health-related program. The product information may differ due to packaging update or re-formulations. You should read carefully all product packaging.
Disclaimer: The product descriptions and the statements on this page are from manufacturers and/or distributors and have not been evaluated by AmeriLifeVitamin.com or the FDA. These products are not intended to diagnose, treat, cure, or prevent any disease.