NOW Foods, L-Glutamine Powder, 6 oz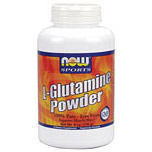 Product Description
L-Glutamine Powder
Glutamine has recently been the focus of much scientific interest. A growing body of evidence suggests that during certain stressful times, the body may require more glutamine than it can produce. Under these circumstances, glutamine may be considered a "conditionally essential" amino acid. Glutamine is involved in maintaining a positive nitrogen balance (an anabolic state) and also aids rapidly growing cells (immune system lymphocytes and intestinal cell enterocytes). In addition, glutamine is a regulator of acid-base balance and a nitrogen transporter.

Supplement Facts
Servings Per Container: 226
Serving Size: 1/4 Level Teaspoon
Amount Per Serving % Daily Value
L-Glutamine 750 mg
Suggested Use:
As a dietary supplement, take 1/4 level tsp. of L-Glutamine Powder in juice, preferably between meals, 1-3 times daily.
Free of: yeast, wheat, gluten, corn, soy, milk, sugar, salt, preservatives, colors, excipients.
Other Ingredients: None
Warnings: Please discard the inedible freshness packet enclosed.
NOW Foods - Manufacturer Information:
Notice: Actual results may vary among users. You should always consult with your physician before starting this product or any health-related program. The product information may differ due to packaging update or re-formulations. You should read carefully all product packaging.
Disclaimer: The product descriptions and the statements on this page are from manufacturers and/or distributors and have not been evaluated by AmeriLifeVitamin.com or the FDA. These products are not intended to diagnose, treat, cure, or prevent any disease.