Member's Mark, Nicotine Lozenges 2 mg, Mint Flavor, 27 ct x 8 Pack

Product Description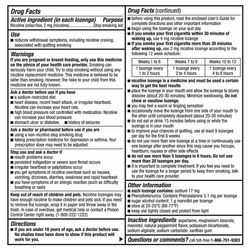 Member's Mark Nicotine Lozenges 2 mg
Compare to the active ingredient in Nicorette Lozenges.
Nicotine Replacement Therapy (NRT).
To help you quit smoking.
Helps control nicotine cravings.
Compare the active ingredient in these lozenges to the active ingredient in Nicorette Lozenges. Double your chance to successfully quit smoking with Member's Mark Nicotine Lozenge 2mg, Mint Flavor.

Member's Mark Nicotine Lozenge 2mg, Mint Flavor, is a stop smoking aid for those who smoke their first cigarette more than 30 minutes after waking up. If you smoke your first cigarette within 30 minutes of waking up, use Member's Mark Nicotine Lozenge 4mg.

This product is part of a Nicotine Replacement Therapy, which is designed to wean your body off cigarettes. It helps to regulate, control and gradually reduce your body's nicotine cravings to help you on your journey to quit smoking. These nicotine lozenges contain nicotine polacrilex, a stop smoking aid, which compares to the active ingredient in Nicorette Lozenge. Smoking has two addictive components, a physical and a mental need for the nicotine in tobacco. Member's Mark Nicotine Lozenge 2mg, Mint Flavor addresses the physical need to smoke by reducing withdrawal symptoms, including nicotine cravings. So, why not give quitting a chance when you have the support and refreshing flavor of a stop smoking aid like Member's Mark Nicotine Lozenge 2mg, Mint Flavor? This product does not contain gluten. *When used as directed with a support program. Many people require several quit attempts to stop smoking.

Warnings: If you are pregnant or breast-feeding, only use this medicine on the advice of your health care provider. Smoking can seriously harm your child. Try to stop smoking without using any nicotine replacement medicine. This medicine is believed to be safer than smoking. However, the risks to your child from this medicine are not fully known.
Notice: Actual results may vary among users. You should always consult with your physician before starting this product or any health-related program. The product information may differ due to packaging update or re-formulations. You should read carefully all product packaging.
Disclaimer: The product descriptions and the statements on this page are from manufacturers and/or distributors and have not been evaluated by AmeriLifeVitamin.com or the FDA. These products are not intended to diagnose, treat, cure, or prevent any disease.