Nature Made, Magnesium Citrate 250 mg, 180 Softgels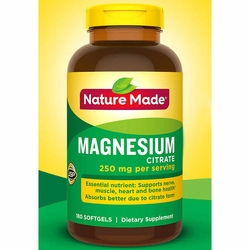 Product Description
Nature Made Magnesium Citrate
250 mg of Magnesium Citrate Per Serving.
Essential Nutrient: Supports Nerve, Muscle, Heart and Bone Health.
Absorbs Better Due to Citrate Form.
Dietary Supplement.
Supplement Facts
Serving Size: 2 Softgels
Servings Per Container: 90
Amount Per Serving % Daily Value
Calories 15
Total Fat 1 g 1%*
Saturated Fat 1 g 5%*
Total Carbohydrate 2 g 1%*
Protein less than 1 g
Magnesium (as Magnesium Citrate) 250 mg 60%
*Percent Daily Values are based on a 2,000 calorie diet.

Other Ingredients: Medium Chain Triglycerides, Gelatin (Porcine), Glycerin, Rapeseed Lecithin, Water, Colors Added (Including Carmine), Yellow Beeswax.

No Synthetic Dyes - Colors Derived from Natural Sources, No Artificial Flavors, Gluten Free.

Suggested Use:
Adults, take 2 softgels daily with water and a meal.
Notice: Actual results may vary among users. You should always consult with your physician before starting this product or any health-related program. The product information may differ due to packaging update or re-formulations. You should read carefully all product packaging.
Disclaimer: The product descriptions and the statements on this page are from manufacturers and/or distributors and have not been evaluated by AmeriLifeVitamin.com or the FDA. These products are not intended to diagnose, treat, cure, or prevent any disease.