Arthur Andrew Medical, Neprofin AVF, Advanced Veterinary Formula, 1 Kilo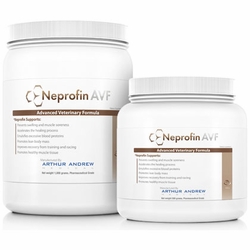 Product Description
Arthur Andrew Medical Neprofin AVF
- Advanced Veterinary Formula.
Neprofin AVF is a blend of powerful enzymes, antioxidants and bioflavonoids specially formulated to help facilitate movement as well as tissue and muscle healing.

Unlike NSAIDs, Neprofin does not block cox enzymes to suppress inflammation, but rather digests the pro-inflammatory prostaglandins that are responsible for causing inflammation and its associated pain. The blend of enzymes and antioxidants in Neprofin AVF not only suppress inflammation, but also positively impact digestion by helping to assimilate food into nutrients.

Supplement Facts
Serving Size: One Scoop (3 grams)
Amount Per Serving % Daily Value
Calcium Citrate 120 mg *
Neprofin Proprietary Blend:
Protease, MSM, Serratiopeptidase, Bromelain, Rutin Bioflavonoids, Amla, Cellulase, Papain, Amylase, Betaglucanase, Hemicellulase, Phytase, Lipase
*Daily Value not established

Other Ingredients: Maltodextrin.

Suggested Use:
The optimal dosage of Neprofin must be determined by the individual animal's needs.

Equine:
For injured or lame horses, mix 3 scoops (9 grams) of Neprofin into their moist or dry food, 3 times daily. A maintenance dose can be used once symptoms have dissipated. Maintenance doses of one scoop (3 grams) can be administered one to three times daily.

Household Pets:
There have been no studies on optimal doses of Neprofin for household pets, and the product is intended for equine use. However, many household pets have benefited from their owners supplementing Neprofin in their pet's food. Because the product is intended for equine applications, the serving scoop is much larger than required for a household pet. As little as 1/6th up to 1/3rd of a scoop once daily is adequate for most household pets.
Notice: Actual results may vary among users. You should always consult with your physician before starting this product or any health-related program. The product information may differ due to packaging update or re-formulations. You should read carefully all product packaging.
Disclaimer: The product descriptions and the statements on this page are from manufacturers and/or distributors and have not been evaluated by AmeriLifeVitamin.com or the FDA. These products are not intended to diagnose, treat, cure, or prevent any disease.