Olympian Labs, Biocell Collagen, Optimal Blend For Women, 60 Capsules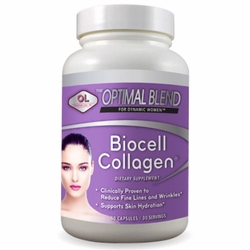 Product Description
Olympian Labs Optimal Blend Biocell Collagen
Dietary Supplement.
For Dynamic Women.
Clinically Proven to Reduce Fine Lines and Wrinkles.
Supports Skin Hydration.
Biocell Collagen is a low molecular weight collagen that is easily absorbed as well as proven, effective and fast acting. Improves skin moisture by 72% and helps reduce fine line and wrinkles. Also supports joint comfort and mobility.
Supplement Facts
Serving Size: Two (2) Softgels
Serving Per Container: 30
Amount Per Serving %DV
BioCell Collagen 100 mg
Hydrolyzed Chicken Collagen Type II 600 mg
Chondroitin Sulfate 200 mg
Hyaluronic Acid 100 mg
Other Ingredients: Rice flour, gelatin, cellulose (plant fiber), ascorbyl palmitate, and silicone dioxide.
Suggested Use:
As a dietary supplement, take two (2) Optimal Blend Biocell Collagen capsules daily or as directed by a healthcare professional.
Notice: Actual results may vary among users. You should always consult with your physician before starting this product or any health-related program. The product information may differ due to packaging update or re-formulations. You should read carefully all product packaging.
Disclaimer: The product descriptions and the statements on this page are from manufacturers and/or distributors and have not been evaluated by AmeriLifeVitamin.com or the FDA. These products are not intended to diagnose, treat, cure, or prevent any disease.