Dr. Mercola, Solspring Coconut Oil, Biodynamic Organic, 32 oz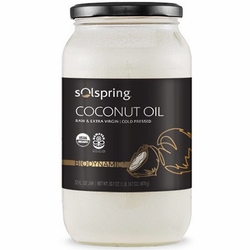 Product Description
Dr. Mercola Solspring Biodynamic Organic Coconut Oil
Raw & Extra Virgin.
Cold Pressed.
USDA Organic.
When it comes to cooking and baking, common vegetables oils, such as corn, soy, safflower, sunflower and canola, aren't ideal. Particularly high in omega-6 fats, these oils are highly susceptible to heat damage due to the many double bonds they have.

There is only one oil that is stable enough to resist heat-induced damage and is ideal for cooking and baking - coconut oil.

Exclusively sourced from top-quality Biodynamic farms that adhere to holistic, regenerative growing practices with a strong emphasis on sustainability and ecological responsibility, Solspring Biodynamic Organic Coconut Oil elevates the standard for extra virgin coconut oil, as it is:
Demeter Certified Biodynamic and USDA Certified Organic.
Made from fresh, raw coconuts that are opened within 48 hours of harvesting.
Never produced from dried copra used in cheap oils.
Cold-pressed to preserve nutrients while avoiding the use of heat or solvents.
Produced without refining, bleaching, deodorization or hydrogenation processes.
Made without soy, gluten and genetically engineered (GE) ingredients.
Exclusively formulated for stability without the need for refrigeration.
Expertly delivered by a Biodynamic partner with over 25 years of experience as an international leader in modern sustainable agriculture.
Because the fresh coconuts used in this exclusive coconut oil are grown and processed using Biodynamic practices, no potentially harmful synthetic fertilizers, additives or chemical solvents are ever used.

The exceptional taste of Solspring Biodynamic Organic Coconut Oil is so delicious, you'll want to use it every time you cook. Experience the Solspring difference, and order your supply today.
Nutrition Facts
about 62 servings per container
Serving Size: 1 Tbsp. (14 g)
Amount Per Serving % Daily Value
Calories 120
Total Fat 14 g 18%
Saturated Fat 13 g 65%
Sodium 0 g 0%
Total Carbohydrate 0 g 0%
Protein 0 g
Not a significant source of trans fat, cholesterol, total sugars, added sugars, dietary fiber, vitamin D, calcium, iron, and potassium.

Ingredients: Biodynamic Organic Virgin Coconut Oil.

Contains tree nuts (coconut).
Notice: Actual results may vary among users. You should always consult with your physician before starting this product or any health-related program. The product information may differ due to packaging update or re-formulations. You should read carefully all product packaging.
Disclaimer: The product descriptions and the statements on this page are from manufacturers and/or distributors and have not been evaluated by AmeriLifeVitamin.com or the FDA. These products are not intended to diagnose, treat, cure, or prevent any disease.