NOW Foods, Organic Peppermint Oil, 100% Pure, 4 oz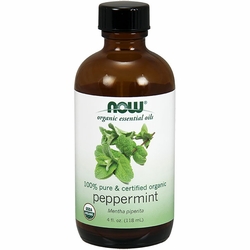 Product Description
NOW Foods Essential Oils - Peppermint Oil
100% Pure.
Certified Organic.
Mentha piperita.
Ingredients: Organic peppermint oil (100% pure).
Aroma: Fresh, strong mint.
Attributes: Revitalizing, invigorating, cooling.
Extraction Method:
Steam Distilled from aerial parts.
Physical Characteristics:
Specific Gravity: 0.896-0.908
Refractive Index: 1.459-1.465
Energizing Blend:
Add 1 drop each of organic peppermint oil and organic rosemary oil along with 2 drops of cinnamon oil to a diffuser and enjoy.
NOTE: Dropper insert is not included with the 4 oz. size bottles.
Purity Tested/Quality Assured. Certified Organic by Quality Assurance International.
Suggested Usage:
For aromatherapy use. For all other uses, carefully dilute with a carrier oil such as jojoba, grapeseed, olive, or almond oil prior to use. Please consult an essential oil book or other professional reference source for suggested dilution ratios.
Natural essential oils are highly concentrated and should be used with care.

NOW Foods - Manufacturer Information:
Notice: Actual results may vary among users. You should always consult with your physician before starting this product or any health-related program. The product information may differ due to packaging update or re-formulations. You should read carefully all product packaging.
Disclaimer: The product descriptions and the statements on this page are from manufacturers and/or distributors and have not been evaluated by AmeriLifeVitamin.com or the FDA. These products are not intended to diagnose, treat, cure, or prevent any disease.