Hero Nutritionals Yummi Bears, Organic Yummi Bears Multi-Vitamin & Mineral, 90 Gummy Bears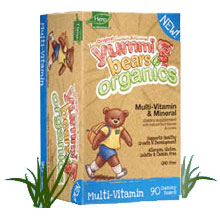 Product Description
Hero Nutritional Yummi Bears Organics Multi-Vitamin & Mineral
Certified Organic Gummy Vitamins for Children.
With Natural Fruit Flavors & Colors.
Supports Health Growth & Development.
Allergen, Gluten, Gelatin & Casein Free.
GMO Free.
Organic Yummi Bears Multi-Vitamin & Mineral has 16 essential vitamins and minerals that contain the proper amount of nutrients important for your children's growth and development.
Yummi Bears Organics unique formulas are allergen free, gluten free, casein free, gelatin free, GMO free, and made with all natural flavors and colors.
Supplement Facts
Serving Size: 3 Yummi Bears
Servings Per Container: 30
Amount Per Serving % DV for Children 2-4 % DV for Children 4-Adult
Calories 20
Total Fat 0 g 0% 0%
Trans Fat 0 g 0% 0%
Sodium 10 mg 0%
Total Carbohydrates 5 g 2%
Sugars 4 g
Vitamin A (as Vitamin A Palmitate) 2500 IU 100% 50%
Vitamin C (as Ascorbic Acid) 30 mg 75% 50%
Vitamin D-3 (as Cholecalciferol) 200 IU 50% 50%
Vitamin E (as d-Alpha Tocopheryl Acetate) 20 IU 200% 66%
Niacin (as Niacinamide) 5 mg 50% 25%
Vitamin B-6 (as Pyridoxine Hydrochloride) 1.5 mg 225% 75%
Folic Acid (as Folic Acid) 300 mcg 150% 75%
Vitamin B-12 (as Cyanocobalamin) 5 mcg 167% 83%
Biotin (as Biotin) 90 mcg 60% 30%
Pantothenic Acid (as D-Pantothenate) 7.5 mg 150% 75%
Calcium (as Calcium Citrate) 7.5 mg 0.9% 0.8%
Iodine (as Potassium Iodide) 75 mcg 110% 50%
Manganese (as Manganese Citrate) 3.75 mg 1.9% 0.9%
Zinc (as Zinc Citrate) 3.3 mg 44% 22%
Choline (as Choline Dihydrogen Citrate) 15 mcg
Inositol 15 mcg
Daily Value (DV) not established.
Percent Daily Values are based on a 2,000 calorie diet.
Other Ingredients: Organic evaporated cane juice, organic tapioca syrup, pectin, citric acid, natural flavors (strawberry, orange, pineapple, grape), natural colors (black carrot juice concentrate, annatto turmeric, purple berry juice concentrate), and sodium citrate.
Free of: Yeast, wheat, milk, eggs, soy, salt, tree nuts, peanuts, shellfish, allergens, gluten, casein, gelatin, artificial flavors, artificial colors, salicylates, and preservatives.
Suggested Use:
As a dietary supplement, parents may give child up to three (3) bears per day.
Warnings: Product appearance may change over time due to natural color. This does not alter the potency of the product. Store in a cool, dry place, out of reach of children. Do not use if safety seal is broken. Keep sealed for freshness.
Notice: Actual results may vary among users. You should always consult with your physician before starting this product or any health-related program. The product information may differ due to packaging update or re-formulations. You should read carefully all product packaging.
Disclaimer: The product descriptions and the statements on this page are from manufacturers and/or distributors and have not been evaluated by AmeriLifeVitamin.com or the FDA. These products are not intended to diagnose, treat, cure, or prevent any disease.