Pana, 3/32" Diamond Carbide Cone Bit, PNDB-12, 1 Piece

Product Description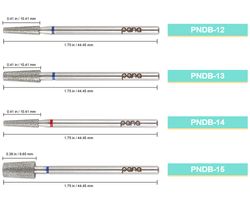 PANA 3/32" Diamond Carbide Cone Bit
Diamond bits are the toughest bits on the market, and are generally made from natural or synthetic materials. The rust-free and long-lasting nail drill bit is expected to withstand 10 to 15 times before it becomes dull. Because of its fine particles made of high purity white sand, diamond nail drill bits are non-abrasive and less painful to use. The diamond bits are ideal for cleaning the client's cuticles, as well as smoothing and buffing the client's nails, due to their fine texture. The non-abrasive drill bit is also known to be heat-dissipating due to friction and produce more dust and debris. Diamond bits are normally recommended for services such as dry manicures, cuticle detailing, or Russian manicures.

The Diamond Cone Bit allows full flexibility on it's uses for the size of the bit. Pana's Diamond Cone Bit is made of highly graded materials to last longer without rusting or warping. The Diamond Cone Bit is commonly used for removing polish or any remaining products such as glue, or rhinestones, as well as cleaning and carving the cuticle and sidewalls of the nail beds. The cone shaped design of the drill bit allows nail techs to perform detail work at the hard to reach places, such as under the nail, sidewalls, and smaller nail bed surfaces such as toes or pinkie fingers safely with the non-abrasive grit.
Measurements:
PNDB-12 (Medium Grit)
Length: 1.75"
Tip Length: 0.41"
PNDB-13 (Medium Grit)
Length: 1.75"
Tip Length: 0.41"
PNDB-14 (Fine Grit)
Length: 1.75"
Tip Length: 0.41"
PNDB-15 (Medium Grit)
Length: 1.75"
Tip Length: 0.38"
Tip Depth: 0.20"
Notice: Actual results may vary among users. You should always consult with your physician before starting this product or any health-related program. The product information may differ due to packaging update or re-formulations. You should read carefully all product packaging.
Disclaimer: The product descriptions and the statements on this page are from manufacturers and/or distributors and have not been evaluated by AmeriLifeVitamin.com or the FDA. These products are not intended to diagnose, treat, cure, or prevent any disease.