Nature's Answer, Plant Based Cal-Mag Liquid, Marine Calcium Magnesium, 16 oz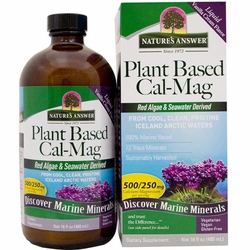 Product Description
Nature's Answer Plant Based Cal-Mag Liquid
Red Algae & Seawater Derived.
From Cool, Clean, Pristine Iceland Arctic Waters.
100% Marine Based.
72 Trace Minerals.
Sustainably Harvested.
Vegetarian/Vegan. Gluten Free.
Delicious Vanilla Cream Flavor.
Harvested in the cool, clean and pristine waters off the coast of Iceland, Aquamin's Red Algae and Seawater Marine Calcium, Magnesium and Multi-Mineral Complex supplies bio-active calcium, magnesium, and 72 other trace minerals.
In an area untouched by industry, the warm waters of the gulfstream meet the cold clean waters of the arctic and the perfect conditions exist for Red Algae to build up.
Supported by a significant and growing body of scientific publications, Aquamin's unique matrix of trace minerals works synergistically together to give a powerful boost to calcium and magnesium's bioactivity.
Supplement Facts
Serving Size: 15 mL
Servings per Container: About 30
Amount Per Serving % Daily Value
Calories 32
Total Carbohydrate 8 g 3%
Calcium (from Aquamin Red Algae (from Lithothamnium sp. Thallus) and Seawater) 500 mg 50%
Magnesium (from Aquamin Seawater) 250 mg 62%
Sodium 15 mg 1%
Other Ingredients: Purified water, glycerin, natural flavor, acacia gum, xanthan gum.
Suggested Use:
As a dietary supplement, take one (1) tablespoon (15 mL) per day. May be taken with water and/or your favorite beverage. Store in a cool, dry place.
Notice: Actual results may vary among users. You should always consult with your physician before starting this product or any health-related program. The product information may differ due to packaging update or re-formulations. You should read carefully all product packaging.
Disclaimer: The product descriptions and the statements on this page are from manufacturers and/or distributors and have not been evaluated by AmeriLifeVitamin.com or the FDA. These products are not intended to diagnose, treat, cure, or prevent any disease.