Pro-Ven Probiotics, Probiotic with Digestive Enzymes, 30 Capsules

Product Description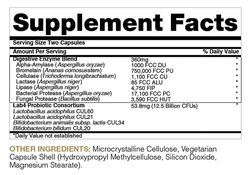 Pro-Ven Probiotics Probiotic with Digestive Enzymes
Comprehensive support for digestion.
25 billion multi-strain research-backed probiotics per two capsules.
With full spectrum digestive enzymes to break down food in the stomach and intestines.
Proven to survive stomach and bile acids.
For everyday use alongside meals.
Guaranteed bacteria count to expiry date.
Vegetarian. Gluten free. Lactose free. Kosher.
Dietary Supplement.
Suggested Use:
As a dietary supplement, take two capsules per day with food, one with each of two main meals.
Notice: Actual results may vary among users. You should always consult with your physician before starting this product or any health-related program. The product information may differ due to packaging update or re-formulations. You should read carefully all product packaging.
Disclaimer: The product descriptions and the statements on this page are from manufacturers and/or distributors and have not been evaluated by AmeriLifeVitamin.com or the FDA. These products are not intended to diagnose, treat, cure, or prevent any disease.