Planetary Herbals, Rehmannia Endurance (Liu Wei Di Huang Wan) 637 mg, 75 Tablets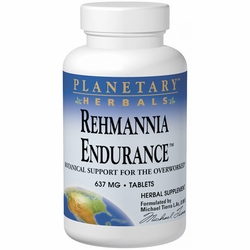 Product Description
Planetary Herbals Rehmannia Endurance
Botanical Support for the Overworked.
Herbal Supplement.
Planetary Herbals Rehmannia Endurance is based on the classic Chinese tonifier Rehmannia Six: Liu Wei Di Huang Wan, one of the most strengthening tonics of Chinese herbalism. Traditionally, it was used for those who are tired and run down from overwork and inadequate rest due to a fast-paced lifestyle.
Rehmannia: Premier Herbal Tonifier of China
Rehmannia was first written about in the earliest classic of Chinese herbalism, Shen Nong Ben Cao (circa 1st century A.D.). It formed the basis for a series of formulas designed to support the kidneys, which Chinese herbalists considered the most important organ for energy production and referred to as the "root of life." Unlike ginseng formulas, which were predominantly used in China by the elderly, rehmannia formulas were used by people chronically fatigued due to overwork, stress, and lack of rest.

Rehmannia Endurance: For Type-A Personalities
Rehmannia Endurance is a modified version of the famed Rehmannia Six, first recorded in 1141 A.D. in the Formulary for Pediatric Patterns and Medicine by Dr. Qian Yi. This formula is for people with high energy levels, who are prone to exhaustion due to excessive work and play, lack of sleep, and irregular mealtimes. These individuals require deep tonifiers that foster steady, nourishing energy -- as opposed to the warm, stimulating, ginseng-like tonics. It is ideal for business people driven to perform and meet timelines, and for athletes and body builders seeking long-term, sustained energy.

For Type B personalities who require warmth and vitality, please see Rehmannia Vitalizer.
Supplement Facts
Serving Size: 1 Tablet
Amount %DV
Calcium 46 mg 5%
Proprietary Blend 637 mg
Rehmannia Root, Poria Sclerotium, Tree Peony Root Bark, Chinese Yam Rhizome, Asian Water Plantain Rhizome, Fo-Ti Root, Chrysanthemum Flower, Ligustrum Fruit, Saw Palmetto Berry, Lycium Fruit Extract, and Asiatic Dogwood Berry Extract.

Other Ingredients: dibasic calcium phosphate, stearic acid, silica, modified cellulose gum, and magnesium stearate.

Suggested Use:
1 tablet three times daily between meals.
Notice: Actual results may vary among users. You should always consult with your physician before starting this product or any health-related program. The product information may differ due to packaging update or re-formulations. You should read carefully all product packaging.
Disclaimer: The product descriptions and the statements on this page are from manufacturers and/or distributors and have not been evaluated by AmeriLifeVitamin.com or the FDA. These products are not intended to diagnose, treat, cure, or prevent any disease.