Starwest Botanicals, Shu Mee White Tea, 4 oz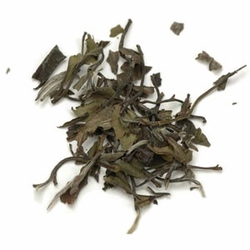 Product Description
Starwest Botanicals Shu Mee White Tea
Botanical Name: Camellia sinensis.
Origin: China.
White Tea leaves are picked early in the season when the buds are fresh and tender, then the leaves are gently dried. White tea undergoes the least processing - the leaves are simply withered and dried. This method maintains higher levels of antioxidants, polyphenols, and vitamins, while also yielding much less caffeine than the other tea varieties. Shu Mee White Tea brews to a light golden-red color and has a slightly sweet and delicate taste with no grassy undertones, and delivers a mellow slightly nutty taste.

Packaging: To preserve freshness, aroma, and potency, our 4 oz loose teas are packaged in a convenient stand-up pouch with a re-sealable zipper closure.

Daily serving size: Pour 8 oz of simmering water (185-195° F preferred) over 1 tsp. of tea. Steep 3-4 minutes.
Notice: Actual results may vary among users. You should always consult with your physician before starting this product or any health-related program. The product information may differ due to packaging update or re-formulations. You should read carefully all product packaging.
Disclaimer: The product descriptions and the statements on this page are from manufacturers and/or distributors and have not been evaluated by AmeriLifeVitamin.com or the FDA. These products are not intended to diagnose, treat, cure, or prevent any disease.