NOW Foods, Soy Protein Isolate Powder, Non-GMO Unflavored, 1.2 lb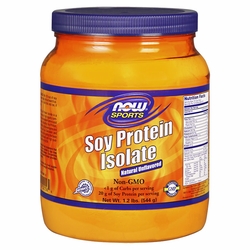 Product Description
NOW Soy Protein is a good vegetable source of high quality complete protein that is very low in fat and carbohydrates and contains an excellent amino acid profile. Soy products, including Soy Protein, are high in phytoestrogens, which may positively support natural estrogen levels in women. Soy Protein also provides beneficial proteins such as Genistein and Diadzein, which have been shown to support good health through various biochemical processes.*
Diets low in saturated fat and cholesterol that include 25 grams of soy protein a day may reduce the risk of heart disease. One serving of NOW® Soy Protein Isolate Powder provides 20 grams of soy protein.
Supplement Facts
Serving Size: 1/3 cup
Servings Per Container: About 19
Amount Per Serving % Daily Value
Calories 90
Calories from fat 10
Total fat 1 g 2%
Sodium 190 mg 8%
Protein 20 g 40%
Calcium 40 mg 4%
Iron 3 mg 17%
Magnesium 60 mg 15%
Zinc 1 mg 7%
Suggested Use: As a dietary supplement, mix 1/3 cup of soy protein powder into at least 8 oz of water, milk, or juice. Add fruit and ice, if desired, and blend.
Free of: sugar, salt, starch, yeast, wheat, gluten, corn, milk, egg or preservatives.
Other Ingredients: Non-Genetically Engineered, 90% Soy Protein Isolate. Vegetarian product.
Notice:
Use this product as a food supplement only. Do not use for weight reduction.
This product contains an average of 42 mg of Isoflavones per serving which have been shown to aid in maintaining good health.
NOW Foods - Manufacturer Information:
Notice: Actual results may vary among users. You should always consult with your physician before starting this product or any health-related program. The product information may differ due to packaging update or re-formulations. You should read carefully all product packaging.
Disclaimer: The product descriptions and the statements on this page are from manufacturers and/or distributors and have not been evaluated by AmeriLifeVitamin.com or the FDA. These products are not intended to diagnose, treat, cure, or prevent any disease.