Planetary Herbals, Stevia Powder Green 316mg, 3.5 oz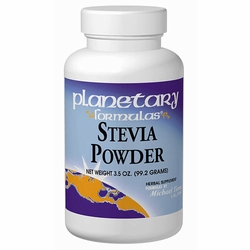 Product Description
Stevia Powder
Full Spectrum Herbal Supplement
Stevia is a white-flowered herb native to Paraguay. Its use by indigenous cultures dates back more than 400 years and it is an integral part of the Paraguayan diet. Its primary constituents, known as steviosides, are found predominantly in the leaves. Planetary Formulas Stevia Powder is made from the pure leaves of the plant, which are finely milled for maximum convenience.
Supplement Facts
for 316 mg
Serving Size: 1/8 teaspoon
Amount %DV
Stevia Leaf 316 mg
Warning: If you are pregnant or breastfeeding, consult your health care professional before using Stevia Leaf product.
Suggested Use:
1/8 teaspoon of Stevia Powder or as desired in cooking or baking.
Notice: Actual results may vary among users. You should always consult with your physician before starting this product or any health-related program. The product information may differ due to packaging update or re-formulations. You should read carefully all product packaging.
Disclaimer: The product descriptions and the statements on this page are from manufacturers and/or distributors and have not been evaluated by AmeriLifeVitamin.com or the FDA. These products are not intended to diagnose, treat, cure, or prevent any disease.