NOW Foods, Tea Tree Oil, 16 oz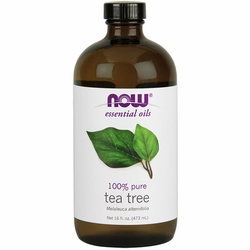 Product Description
Tea tree oil has been a favorite among Australians for centuries. Only in recent years however, has it gained popularity in aromatherapy. With strong antiseptic and germicidal properties, Tea Tree is now used for a number of applications ranging from cosmetic to disinfectant.
NOW® Tea Tree Oil is highly concentrated, and should be cautiously diluted when applied to skin.
Warnings: Keep out of reach of children. For external or aromatherapeutic use only. In case of accidental ingestion, call a doctor or poison control center immediately.
Natural essential oils are highly concentrated and should be used with care.
NOW Foods - Manufacturer Information:
Notice: Actual results may vary among users. You should always consult with your physician before starting this product or any health-related program. The product information may differ due to packaging update or re-formulations. You should read carefully all product packaging.
Disclaimer: The product descriptions and the statements on this page are from manufacturers and/or distributors and have not been evaluated by AmeriLifeVitamin.com or the FDA. These products are not intended to diagnose, treat, cure, or prevent any disease.