Essential Source, TriActive Biotics Immune Care, 30 Vegetable Capsules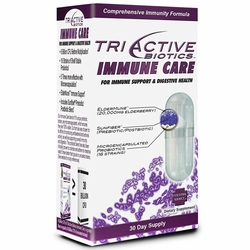 Product Description
Essential Source TriActive Biotics Immune Care
Comprehensive Immunity Formula.
For Immune Support & Digestive Health.
6 Billion CFU Before Multiplication.
16 Strains of Shelf Stable Probiotics.
5 Times More Effective with Microencapsulation.
ElderMune™ Immune Support.
Includes Organic Sunfiber® Prebiotic/Postbiotic Blend.
Dietary Supplement.
Immune Care is Your Once Daily Way To Boost Your Immunity and Fight Back Against Todays Health Challenges!

There's never been a better time to ensure your protection against illness caused by viruses. Improve your body's natural ability to fight off infection with immune boosting foods, vitamin supplements, and our Immune Care Probiotic formula. Immune Care's specifically selected probiotic strains work harmoniously together to provide your digestive system with daily advanced immune-boosting power.

A Probiotic Formula Specifically Focused on Immune Support!
Immune Care is a blend of 16 unique 'microencapsulated' probiotic strains. Microencapsulation ensures the probiotics arrive 100% alive and viable to the small intestine. This formula was created for its affinity to produce antibacterial and antiviral activity, as well as support overall immunity and digestion. Microencapsulated probiotics have also been clinically proven to colonize and adhere to intestinal walls 5 times better than typical or uncoated probiotic strains.
Supplement Facts
Serving Size: 1 Capsule
Servings Per Container: 30
Amount Per Capsule
Microencapsulated Probiotic Blend 6 Billion CFU *
(Bifidobacterium lactis BS01, Bifidobacterium breve BR03, Lactobacillus acidophilus LA02, Lactobacillus plantarum LP09, Lactobacillus rhamnosus LR06, Lactobacillus casei LC03, Bifidobacterium bifidum BB01, Streptococcus thermophilus YO8, Lactobacillus plantarum LP01, Lactobacillus rhamnosus LR05, Lactobacillus rhamnosus GG, Bifidobacterium longum BL03, Lactobacillus reuteri LRE02, Bifidobacterium infantis BI02, Lactobacillus salivarius subsp. salivarius CRL1328, Bifidobacterium lactis BA05)

Organic ElderMune 475 mg *
(Containing bioactive compounds from 20,000 mg organic elderberry)

Organic Sunfiber (Prebiotic/Postbiotic) 161 mg *
(Prebiotic/postbiotic partially hydrolyzed guar fiber)

* Daily Value (DV) not established

Other Ingredients: Vegetable Capsule, Organic Rice Flour, Organic Rice Extract, Ester of Glycerol (probiotic digestive resistant coating).
Allergens: None.
Suggested Use:
Take one capsule daily. Best taken on empty stomach.
Notice: Actual results may vary among users. You should always consult with your physician before starting this product or any health-related program. The product information may differ due to packaging update or re-formulations. You should read carefully all product packaging.
Disclaimer: The product descriptions and the statements on this page are from manufacturers and/or distributors and have not been evaluated by AmeriLifeVitamin.com or the FDA. These products are not intended to diagnose, treat, cure, or prevent any disease.