Dynamic Health Laboratories, Turmeric Gold Juice, Liquid Superfood, 32 oz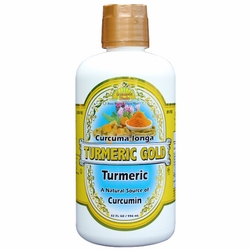 Product Description
Dynamic Health Turmeric Gold
Liquid Superfood.
Where Health & Flavor Meet!®
Curcuma longa.
A Natural Source of Curcumin.
Wild Harvested Pure Turmeric Juice.
BPA Free - Gluten Free - Kosher.
Turmeric is a compound found in the root of the Curcuma longa plant of the ginger family. It has a tough brown skin and a deep orange flesh. Turmeric has been wild harvested for hundreds of years in Indonesia and Southern India where it served an important role in many traditional cultures.
Turmeric is a natural source of Curcumin (diferuloylmethane). It has been traditionally used to promote healthy living.
Supplement Facts
Serving Size: 2 Tbsp. (30 mL) (1 Cap)
Servings per Container: 32
Amount Per Serving % Daily Value
Calories (Energy) (0.0 kcal) (0 kJ) 0
Total Fat 0 g 0%
Cholesterol 0 mg 0%
Sodium 0 g 0%
Potassium 15 mg 0%
Total Carbohydrate 0 g 0%
Dietary Fiber 0 g 0%
Sugars 0 g
Protein 0 g
Turmeric 9000 mg

Other Ingredients: Organic turmeric puree (whole root), organic stevia, citric acid and potassium sorbate (to maintain freshenss).
Directions:
Traditional Use: Take 1-4 Fl Oz (30-120 mL) daily. preferably in the morning. Uniquely formulated to enjoy sipping it pure or added to your favorite beverage. Shake Well Before Using.
Due to the pure, natural ingredients in this product, taste, color and consistency may vary.
Dynamic Health Laboratories - Manufacturer Information:
Notice: Actual results may vary among users. You should always consult with your physician before starting this product or any health-related program. The product information may differ due to packaging update or re-formulations. You should read carefully all product packaging.
Disclaimer: The product descriptions and the statements on this page are from manufacturers and/or distributors and have not been evaluated by AmeriLifeVitamin.com or the FDA. These products are not intended to diagnose, treat, cure, or prevent any disease.