Doctor's Best, Vegan Glucosamine Chondroitin MSM, 120 Veggie Caps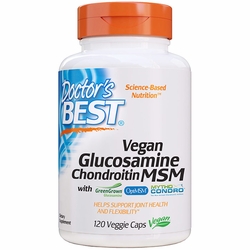 Product Description
Doctor's Best Vegan Glucosamine Chondroitin MSM
Science-Based Nutrition.
Helps Support Joint Health and Flexibility.
Non-GMO / Gluten Free / Soy Free / Vegan.
Dietary Supplement.
Doctor's Best Vegan Glucosamine Chondroitin MSM (GCMSM) contains three major ingredients universally known to support healthy joints and joint function: glucosamine, chondroitin, and MSM (methylsulfonylmethane). This unique combination uses 100% vegetable sourced GreenGrown glucosamine sulfate, the highest purity form of MSM OptiMSM, and the first formulation of its kind to contain non-animal chondroitin sulfate from Mythocondro. Non-animal derived chondroitin produces greater chondroitin sulfate concentration, which provides 43% higher absorption than chondroitin sulfate of animal origin.

Vegan GCMSM supplies the body with building material for proteoglycans, a component of cartilage that helps support joint structure and function. It also provides sulfur, the key element that helps support joint health, hair, skin, and nails. GreenGrown Glucosamine and Mythocondro Chondroitin are both manufactured by environmentally-friendly, patented fermentation technology and are suitable for vegans.
Helps support joint health and flexibility.
Helps support and maintain the body's joints.
Helps support overall health for hair, skin, and nails.
Supplement Facts
Serving Size: 4 Veggie Capsules
Servings Per Container: 30
Amount Per Serving % Daily Value
Calories 5
Total Carbohydrate 1 g <1 %**
Chloride 194 mg 8 %
(from GreenGrown glucosamine sulfate 2KCl)
Potassium 176 mg 4 %
(from GreenGrown glucosamine sulfate 2KCl)
Glucosamine Sulfate 2KCl 1500 mg *
(from GreenGrown glucosamine sulfate 2KCl)
MSM (Methylsulfonylmethane) (OptiMSM) 1000 mg *
Chondroitin Sulfate 400 mg *
(from chondroitin sulfate sodium) (Mythocondro)
** Percent Daily Values are based on a 2,000 calorie diet.
* Daily Value not established.

Other Ingredients: Hypromellose (vegetarian capsule), micro- crystalline cellulose, silicon dioxide, stearic acid.

Suggested Adult Use:
Take 4 capsules daily with food, or as recommended by a nutritionally-informed physician.
Notice: Actual results may vary among users. You should always consult with your physician before starting this product or any health-related program. The product information may differ due to packaging update or re-formulations. You should read carefully all product packaging.
Disclaimer: The product descriptions and the statements on this page are from manufacturers and/or distributors and have not been evaluated by AmeriLifeVitamin.com or the FDA. These products are not intended to diagnose, treat, cure, or prevent any disease.