XyliChew Gum, Sugar Free Chewing Gum, Spearmint, 60 Pieces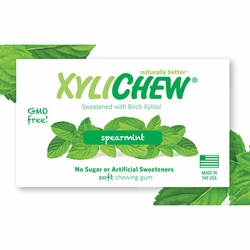 Product Description
XyliChew Sugar Free Chewing Gum, Spearmint
Naturally Better.
100% Birch Xylitol.
Does Not Promote Tooth Decay.
GMO-Free.
XyliChew Gum is sweetened 100% with xylitol (from birch) for healthier teeth and gums.

Low carb, low calorie, breath freshener that moistens the mouth without promoting tooth decay. Sugar-free but without the unpleasant aftertaste.
Nutrition Facts
Serving Size: 1 Piece (1.3 g)
Servings Per Pack: 60
Amount/Serving %DV *
Calories 5
Fat Cal 0
Total Fat 0 g 0%
Sat Fat 0 g 0%
Cholest. 0 g 0%
Sodium 0 g 0%
Total Carb 1 g 0%
Sugars 0 g
Xylitol 1 g
Protein 0 g 0%

No significant source of dietary fiber, Vitamin A, Vitamin C, Calcium and Iron.
*Percent Daily Value (DV) is based on a 2,000 calorie diet

Ingredients:
Xylitol, gum base, vegetable glycerin, natural spearmint flavors, gum arabic, sunflower lecithin, carnauba wax.

Produced in a facility that also processes soy.
Notice: Actual results may vary among users. You should always consult with your physician before starting this product or any health-related program. The product information may differ due to packaging update or re-formulations. You should read carefully all product packaging.
Disclaimer: The product descriptions and the statements on this page are from manufacturers and/or distributors and have not been evaluated by AmeriLifeVitamin.com or the FDA. These products are not intended to diagnose, treat, cure, or prevent any disease.