Epic Dental, Xylitol Mints, Fresh Fruit, 180 Pieces/Bottle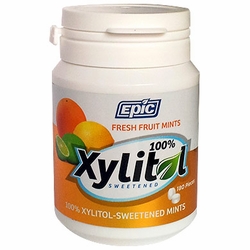 Product Description
Epic Fresh Fruit Xylitol Mints
100% Xylitol Sweetened Mints.
Perfect Size for Cupholder or Desk Drawer.
Contains NO Aspartame.
Natural Citrus Flavors, Contains NO Mint.
15 Day Supply of Dentist-Recommended.
6 Daily Grams of Xylitol.
Enjoy Fresh Fruit Mints with Xylitol!

Sugar-free and sweetened exclusively with xylitol, Epic's Fresh Fruit Mints give a little kick to your daily 6 grams of xylitol that dentists worldwide recommend to help stop tooth decay.

We're perfect for those who've always picked the orange tic tacs ... and you're assured, too, that those with lesser palettes than yours will shy away - too timid to step up to the fruity-healthy-minted plate.

Nutrition Facts
Serving Size: 2 Mints (1g)
Amount per Serving %DV*
Calories: 2
Total Fat 0g 0%
Sodium 0g 0%
Total Carb. 1g 1%
Xylitol 1g
Protein 0g 0%
* Percent Daily Values (DV) are based on a 2000 calories diet. Not a significant source of other nutrients.

Ingredients:
Xylitol, Gum Acacia, Natural Flavors, Magnesium Stearate.
Notice: Actual results may vary among users. You should always consult with your physician before starting this product or any health-related program. The product information may differ due to packaging update or re-formulations. You should read carefully all product packaging.
Disclaimer: The product descriptions and the statements on this page are from manufacturers and/or distributors and have not been evaluated by AmeriLifeVitamin.com or the FDA. These products are not intended to diagnose, treat, cure, or prevent any disease.