Hobe Labs, Energizer Hot Jojoba Oil Hair Treatment, 0.5 oz x 3 Tubes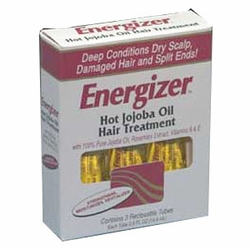 Product Description
Hobe Labs Energizer Hot Jojoba Oil Hair Treatment
Deep Conditions Dry Scalp, Damaged Hair and Split Ends.
With 100% Pure Jojoba Oil, Rosemary Extract, Vitamins A & E.
Strengthens, Moisturizes, Revitalizes.
Contains 3 Reclosable Tubes.
Energizer Hot Jojoba Oil Hair Treatment deep conditions dry scalp, damaged hair and split ends. Rich, and pure Jojoba Oil, Rosemary and Vitamins A & E help break down sebum build-up on the scalp and penetrate each hair shaft to revitalize thin, brittle hair strands.

U.S.D.A Research indicates that Jojoba Oil, when used in sufficient quantities, promotes a luxurious growth of healthy hair.

Ingredients:
100% pure Jojoba Oil, Rosemary Extract, Vitamin A Vitamin E.
Notice: Actual results may vary among users. You should always consult with your physician before starting this product or any health-related program. The product information may differ due to packaging update or re-formulations. You should read carefully all product packaging.
Disclaimer: The product descriptions and the statements on this page are from manufacturers and/or distributors and have not been evaluated by AmeriLifeVitamin.com or the FDA. These products are not intended to diagnose, treat, cure, or prevent any disease.