Bluebonnet Nutrition, Nucleotide Complex, RNA / DNA, 60 Vcaps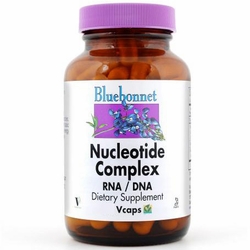 Product Description
Bluebonnet Nucleotide Complex
Dietary Supplement.
RNA / DNA.
Vegan / Vegetarian.
Gluten Free.
Kosher Parve.
Bluebonnet's Nucleotide Complex Capsules provide a complete array of nucleotides, nucleosides and nucleic acids, which are the basic building blocks of RNA and DNA and ATP-the energy molecule. The nucleotide complex is carefully derived from Torula yeast. Available in easy-to-swallow vegetable capsules for maximum assimilation and absorption.
Supplement Facts
Serving Size 1 Capsule
Amount Per Serving % Daily Value
Nucleotide Complex 500 mg *
Nucleotides 240 mg *
(adenosine) AMP 60 mg *
(cytidine) CMP 50 mg *
(guanosine) GMP 80 mg *
(uridine) UMP 50 mg *
* Daily Value not established.

Other Ingredients: 100% Kosher vegetable capsules, vegetable magnesium stearate.

Free of milk, egg, fish, crustacean shellfish, tree nuts, peanuts, wheat and soybeans.

Also free of corn, gluten, barley, rice and sugar.
Directions:
As a dietary supplement, take one capsule daily or as directed by a healthcare practitioner.
Notice: Actual results may vary among users. You should always consult with your physician before starting this product or any health-related program. The product information may differ due to packaging update or re-formulations. You should read carefully all product packaging.
Disclaimer: The product descriptions and the statements on this page are from manufacturers and/or distributors and have not been evaluated by AmeriLifeVitamin.com or the FDA. These products are not intended to diagnose, treat, cure, or prevent any disease.