Source Naturals, Pycnogenol 100mg, 30 Tablets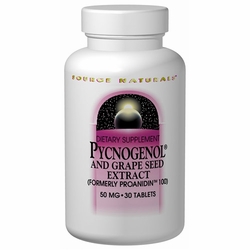 Product Description
Pycnogenol
- Proanthocyanidin Complex
25 mg, 50 mg, 75 mg and 100 mg
Pycnogenol is a natural plant product made from the bark of the European coastal pine, Pinus maritima. This powerful antioxidant is rich in proanthocyanidins, a special class of water-soluble bioflavonoids. Proanthocyanidins are potent antioxidants that effectively scavenge both water- and lipid-soluble free radicals. Proanthocyanidins also support the integrity of elastin and collagen, important constituents of connective tissue.

Pycnogenol - Potent Antioxidant Protection from Nature
Originally discovered by renowned scientist Jacques Masquelier, Pycnogenol is a natural 85% to 95% concentrate of proanthocyanidins extracted from the bark of the Maritime Pine. Proanthocyanidins are a special class of highly bioavailable, water-soluble bioflavonoids with unparalleled free radical scavenging activity. They readily cross the Blood-Brain Barrier to provide antioxidant protection to the central nervous system, and stay in the bloodstream for approximately 72 hours. Thirty years of sound European research shows that proanthocyanidins from Pycnogenol are highly beneficial with no evidence of adverse effects, even after more than ten years of use. They also show no loss in potency after 12 years of storage.

Better Health for an Active Life
As a potent antioxidant, Pycnogenol is valuable for protecting the liver from free radical attack. Since the liver is the main detoxifying, nutrient-assimilating, and energy-generating organ of the body, this may mean more potential for activity in your life. Pycnogenol® may also aid recovery for athletes on strenuous workout regimes and in competition.

Healthy Capillaries through Healthy Collagen
A major beneficiary of the protective actions of Pycnogenol is collagen, the most abundant protein in the body. Collagen is responsible for maintaining the integrity of "ground substance", the basic material in functional fluids, mucus linings, and connective tissue such as tendons, ligaments, cartilage, and most importantly, blood vessels linings. It is highly vulnerable to free radical attack, and a number of discomforting and depreciating processes are associated with its destruction. There is evidence showing that Pycnogenol can provide remarkable support for the prevention of collagen destruction, and it has received much attention for its special affinity for capillaries, the smallest blood vessels.

Pycnogenol helps strengthen capillary linings in three key ways. First, Pycnogenol functions to scavenge the free radicals that may compromise the integrity of collagen. Second, Pycnogenol contains catechin, which is thought to stabilize collagen by forming hydrogen bonds and cross-linking collagen. Third, Pycnogenol is Vitamin C-sparing, meaning it can fill in for C in a number of functions; this frees some Vitamin C required for the synthesis of hydroxproline, a major structural amino acid of collagen for use in building collagen.

People who smoke and women who take oral contraceptives can reduce their heightened risk of Vitamin C depletion by taking advantage of Pycnogenol's Vitamin C-sparing activity.

Look to Source Naturals for 25 mg, 50 mg, 75 mg, & 100 mg tablets of this natural wonder!

Pycnogenol® is a registered trademark of Horphag Research Limited, Protected by U.S. Patent #4,698,360

Supplement Facts for 100 mg
Serving Size: 1 tablet
Amount %DV
French Maritime Pine Bark Extract (Pycnogenol) Yielding 90% Proanthocyanidins and Organic Acids 100 mg

Other Ingredients: microcrystalline cellulose, dibasic calcium phosphate, magnesium stearate, modified cellulose gum, colloidal silicon dioxide and stearic acid.
Warning: If you are pregnant or breastfeeding, consult your health care professional before using Pycnogenol product.
Suggested Use: One Pycnogenol tablet daily. To build reserves rapidly, start with one tablet per 100 pounds of body weight per day, for 7 to 10 days.
Source Naturals Pycnogenol is suitable for vegetarians and HYPOALLERGENIC: contains no yeast, dairy, egg, corn, soy or wheat. Contains no sugar, starch, salt, preservatives, or artificial color, flavor or fragrance.
Notice: Actual results may vary among users. You should always consult with your physician before starting this product or any health-related program. The product information may differ due to packaging update or re-formulations. You should read carefully all product packaging.
Disclaimer: The product descriptions and the statements on this page are from manufacturers and/or distributors and have not been evaluated by AmeriLifeVitamin.com or the FDA. These products are not intended to diagnose, treat, cure, or prevent any disease.