Natural Balance, Super Pep, 60 Capsules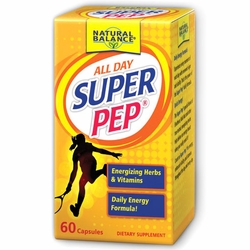 Product Description
Natural Balance Super Pep
Daily Energy Formula With Vitamins.
Features essential vitamins and minerals for energy production.
The more complete energy formula.
Supplement Facts
Serving Size 2 Capsules
Servings Per Container: 30
Amount Per Serving % Daily Value
Vitamin A (as beta - carotene) 5000 IU 100%
Vitamin C (as ascorbic acid) 60 mg 100%
Vitamin E (as d - alpha tocopheryl acetate) 30 IU 100%
Thiamin (as HCI) 1.5 mg 100%
Riboflavin 1.7 mg 100%
Niacin (as niacinamide) 20 mg 100%
Vitamin B6 (as pyridoxine HCI) 2 mg 100%
Folic Acid 200 mcg 50%
Vitamin B12 (as cyanocobalamin) 6 mcg 100%
Biotin 150 mcg 50%
Pantothenic Acid (as d - calcium pantothenate) 10 mg 100%
Zinc (as proteinate) 5 mg 33%
Manganese (as proteinate) 1 mg 50%
DynaChrome? Chromium (as arginate/chelidamate) 25 mcg 21%
Proprietary Blend 704 mg
Kola Nut (seed extract contains caffeine) *
Guarana (seed extract contains caffeine) *
Eleuthero (root) *
Wood Betony (aerial portion) *
Beet Powder (root) *
Cayenne (fruit) *
American Centaury (aerial portion) *
Gotu Kola (aerial portion extract) *
Ho Shou Wu (root) *
Garlic (bulb) *
* Daily Value not established.

Other Ingredients: Gelatin, magnasium stearate.

Suggested Use:
Take two capsule daily.
Notice: Actual results may vary among users. You should always consult with your physician before starting this product or any health-related program. The product information may differ due to packaging update or re-formulations. You should read carefully all product packaging.
Disclaimer: The product descriptions and the statements on this page are from manufacturers and/or distributors and have not been evaluated by AmeriLifeVitamin.com or the FDA. These products are not intended to diagnose, treat, cure, or prevent any disease.