Source Naturals, Vegan True B-125 Complex, 60 Tablets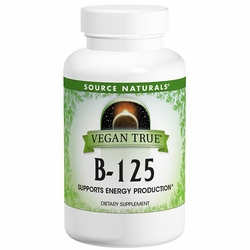 Product Description
Source Naturals Vegan True™ B-125
Vitamin B Complex.
Supports Energy Production.
B vitamins act as coenzymes to catalyze numerous biochemical reactions, aiding in energy production, blood cell formation, and fat and protein/amino acid metabolism, and they are important for the normal functioning of the nervous system. Each B vitamin fills a different, complementary need, which is why they should usually be taken together.
Supplement Facts
Serving Size: 1 Tablet
Amount %DV
Thiamin (as vitamin B-1) 125 mg 8,333%
Riboflavin (as vitamin B-2) 125 mg 7,353%
Niacinamide 100 mg & Niacin 25 mg 125 mg 625%
Vitamin B-6 (as pyridoxine HCl) 125 mg 6,250%
Folate (as folic acid) 800 mcg 200%
Vitamin B-12 (as cyanocobalamin) 125 mcg 2,083%
Biotin 125 mcg 42%
Pantothenic Acid (as calcium d-pantothenate) 125 mg 1,250%
Choline (as choline bitartrate) 125 mg
Inositol 125 mg
PABA (para-aminobenzoic acid) 125 mg
Other Ingredients: stearic acid, sorbitol, modified cellulose gum, silica, and magnesium stearate.

Suggested Use: 1 tablet daily.
Vegan True™ Vitamin B-125 does not contain any animal products or any animal-derived ingredients, making it ideal for vegans.
Notice: Actual results may vary among users. You should always consult with your physician before starting this product or any health-related program. The product information may differ due to packaging update or re-formulations. You should read carefully all product packaging.
Disclaimer: The product descriptions and the statements on this page are from manufacturers and/or distributors and have not been evaluated by AmeriLifeVitamin.com or the FDA. These products are not intended to diagnose, treat, cure, or prevent any disease.