Solgar, Comfort Zone Digestive Complex, 90 Vegetable Capsules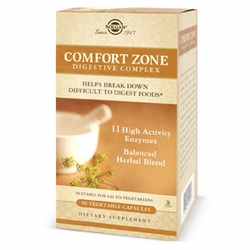 Product Description
Solgar Comfort Zone Digestive Complex is an advanced digestive complex that helps to encourage more efficient and thorough digestion... so you can feel better about the foods you eat and worry less about having the foods you enjoy. With 11 naturally derived enzymes, Solgar® Comfort Zone helps to support the body's natural digestive process... so you can turn what you eat... into what you need. Stop avoiding - with Solgar® Comfort Zone you can put your favorite foods back on the menu.
Having the right enzyme support can make a difference in your overall digestive health. Enzymes help to break foods down to the molecular level so they can be absorbed. Because we all digest foods differently, sometimes we can benefit from extra enzyme help in breaking down proteins into amino acids, carbohydrates into simple sugars and fats into fatty acids. Adding one capsule with every meal can make a real difference in your relationship with food. Getting into the Comfort Zone can make you and your meals fast friends.

Supplement Facts
Serving Size: 1 Vegetable Capsule
Amount Per Serving
Proprietary Enzyme Blend Activity 200 mg
Amylase (Carbohydrate Enzyme) 12,500 DU
Protease SP (Protein Enzyme) 50,000 HUT
Lactase (Dairy Enzyme) 1,000 ALU
Pectinase/Phytase (Carbohydrate Enzyme) 75 endo-PGU
Lipase (Fat Enzyme) 1,000 FIP
Bromelain (Protein Enzyme) 100,000 PU
Cellulase (Fiber Enzyme) 500 CU
Papain (Protein Enzyme) 100,000 PU
Invertase (Carbohydrate Enzyme) 300 SU
Maltase (Carbohydrate Enzyme) 300 DP
Alpha Galactosidase (Carbohydrate Enzyme) 150 GaIU
Botanical Comfort Blend 225 mg
Cumin Powder (Cuminum cyminum) (seed),
Fennel Extract (4:1) (Foeniculum vulgare) (seed),
Chamomile (Matricaria recutita) (flower),
Ginger Extract (4:1) (Zingiber officinale) (root),
Anise Powder (Pimpinella anisum) (seed)
Other Ingredients: Microcrystalline Cellulose, Vegetable Cellulose, Silica, Vegetable Magnesium Stearate. Contains milk, wheat and soy.
FREE OF: Yeast, Sugar, Sodium, Artificial Flavor, Sweetener and Color.
Suggested Use:
As a dietary supplement for adults, take one (1) Comfort Zone Digestive Complex vegetable capsule with every meal or as directed by a healthcare practitioner.
Not intended for use by pregnant or nursing women. If you are taking any medications or have any medical condition, please consult your healthcare practitioner before taking any dietary supplement. Avoid this product if you are allergic to ragweed or daisy-like flowers. Discontinue use and consult your healthcare practitioner if any adverse reactions occur. Store at room temperature.
Notice: Actual results may vary among users. You should always consult with your physician before starting this product or any health-related program. The product information may differ due to packaging update or re-formulations. You should read carefully all product packaging.
Disclaimer: The product descriptions and the statements on this page are from manufacturers and/or distributors and have not been evaluated by AmeriLifeVitamin.com or the FDA. These products are not intended to diagnose, treat, cure, or prevent any disease.