Source Naturals, Crystal Balance Himalayan Bath Salt, 25 oz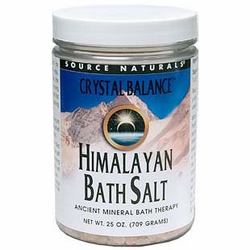 Product Description
Source Naturals Himalayan Bath Salt by Crystal Balance

Ancient Mineral Bath Therapy.
For Extraordinary Bathing.
Himalayan Rock Salt Crystals.

Relax into the ancient pleasure of a warm bath with salt crystals of unparalleled purity and richness.
Millions of years ago, the primordial oceans over the Himalayas evaporated, leaving salt and mineral deposits. As the eons progressed, the majestic peaks of the mountains rose to the sky, and the tectonic pressure compressed the ocean beds into massive salt blocks. Legend has it that the salt deposits were originally discovered by Alexander the Great in 325 BC, but then they were ignored for centuries - unexploited by later conquerors such as India, the Persians, Ghengis Khan, the Moghuls or the British, among many others. Himalayan salt has been rediscovered and is gaining worldwide fame.
Himalayan salt crystals are filled with trace minerals, giving the salt a natural rose color. A refreshing salt bath stimulates circulation, and cleanses and smoothes the skin.
The salt deposits are pure: they are untouched by pollution, not bleached or treated by modern chemicals.

Suggested Use:
In the bath: 1/2 - 1 cup dissolved in warm water.
Notice: Actual results may vary among users. You should always consult with your physician before starting this product or any health-related program. The product information may differ due to packaging update or re-formulations. You should read carefully all product packaging.
Disclaimer: The product descriptions and the statements on this page are from manufacturers and/or distributors and have not been evaluated by AmeriLifeVitamin.com or the FDA. These products are not intended to diagnose, treat, cure, or prevent any disease.